This week, we had a chat with Rafael, Principal Consultant at Annapurna. Rafael joined Annapurna in 2019 and since then, has become a prominent leader as a Senior IT Recruiter, and is an integral part of organisation from a social and wellbeing perspective.
Rafael discussed his previous role and the thought process behind his old colleagues, which made him uncomfortable expressing his sexuality. He came to realise that the most important thing to look for in his next role was to be able to express himself.
"I wanted to feel comfortable and be myself around my colleagues"
On Rafael's first day at Annapurna, he was concerned about how to act, due to his previous experience in a recruitment role. The first question asked by his manager, Florian, was 'do you watch RuPaul's Drag Race?', which was the ideal ice breaker for him. Rafael then realised that Annapurna was a safe environment and felt much more comfortable discussing LGBT+.
"A speak-up culture in the workplace is very important."
If you can't be yourself openly in a work environment or any environment, then it is not the right one for you. Rafael said that if you ever feel like this, then you need to find something new that suits you. It's too hard to pretend who you really are and you should never compromise yourself!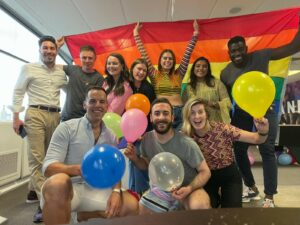 ''That's so gay' – Gay is not a slur or a label, being gay is an identity."
Rafael discussed the boundaries that are sometimes crossed within an office environment. Previous colleagues that Rafael has worked with in the past haven't always been as understanding and this casual homophobia should not be accepted.
Rafael says it's ok not to know about a subject or not be sure about everything in the LGBT+ community, however, it's important to ensure if you're curious to learn more, to ask questions in a respectful way and be open-minded to the information people share with you about their experience. It's always better to ask questions than to assume.
"Gender and identity can be a very tricky subject. You don't have to understand everything, however, it's always important to respect people, and how they want to be addressed."
Rafael also expressed how important it is to celebrate Pride. People tend to believe that pride is just an LGBT+ celebration, but that's not how it started. Pride month is an opportunity to peacefully protest and raise political awareness of current issues facing the community.
If you are supporting and celebrating a community, then it is important to give back to this community. We take part in regular quizzes where we donate to our charity partner Mosaic Trust who support, educate and inspire young LGBT+ persons and those around them.
It's not just male-orientated here, there are female leaders, black leaders and a mix of cultures and identities that are all accepted and celebrated.
Some suggestions from Rafael:
Workplaces should have a gender-neutral toilet to support employee inclusion.
Understand that LGBT+ is an identity, and respect it, even if you don't understand it.
Don't let corporate companies use pride month as a form of marketing without supporting the community! If companies are using the rainbow logo, we should be pushing them to show support through donations to LGBT+ charities or through community outreach.
Choose an LGBT+ charity to donate to and support.
Click to watch the video below on what Pride means for Annapurna.
If you have any questions, please do feel free to get in touch and connect with Rafael on Linkedin.
If you believe in our initiatives and want to get involved, then come see what could work for you. Have a look at the jobs on our career page.
Written by Jasmine Mitchell, Growth Marketing Executive – Annapurna Recruitment