Employees that are engaged with their work are more productive. A recent study showed that companies that focus on employee engagement outperform other companies by 202%. But why does this happen?
Sure, some employees show up everyday with a positive outlook on work, but there's more to it than hiring a bunch of energetic and enthusiastic people. After all, even when the happiest of workers are put into a stressful situation, their productivity can suffer. Similarly, those who are more cynical can be more productive if they're in an environment that makes them want to succeed.
When it comes down to it, today's employee engagement crisis – the fact that less than 30% of employees in the U.S. are engaged in their work – is not the fault of employees. It's a problem with leadership.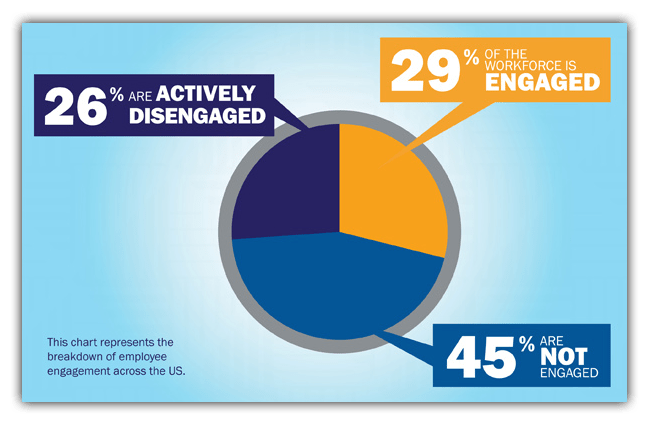 How can we expect our employees to be engaged when only 38% of managers and executives are engaged? Today, we're sharing why employee engagement depends on good leadership, as well as how you can encourage management to get more engaged.
Why great leadership matters for employee engagement
Great leaders motivate their employees, provide feedback, and help chart out a path forward. But what makes a good leader?
According to psychologist Daniel Goleman, emotional intelligence is a key differentiator between those who are good leaders and those who are not. Goleman's research showed him that the best leaders are able to understand the emotions of others, and have great interpersonal skills. Goleman wrote that people who are decisive, well-trained, and have great ideas are unlikely to be good leaders without advanced emotional intelligence.
This fits right into what we know about employee engagement. If employees get recognition, and have leaders that understand their motivations, they're much more likely to be engaged and productive. According to The VIA Institute on Character, team members who feel managers can name their strengths are 71% more likely to feel engaged.
If leaders are emotionally intelligent– or are trained to be more so– they are more likely to motivate their teams and lead them in the right direction.
Examples of leaders who changed the game
Don't think leadership matters? Think again. Here are two effective leaders who changed the game at their respective companies:
Jim Sinegal, CEO of Costco, acts like everybody else
Costco is well-known as a company that treats employees well. Employee turnover is exceedingly low for the industry. Believe it or not, employee turnover at Costco is 5x less than Walmart. Clearly, someone is doing something right.
Perhaps that success is thanks to Jim Sinegal, who's not only reduced turnover, but has also brought big returns to Costco. Since joining the company, Costco has become the nation's leading warehouse retailer, owning about half of the market.
But Sinegal's leadership strategy is unique. Rather than boss everyone around from a podium, Sinegal acts like everybody else. His name tag says Jim, and he doesn't have an assistant to answer his phone. He has a salary of $350,000, which may seem large, but is actually 10 percent less than other retail executives.
Glenn Kelman, Founder of Redfin, got transparent
When Redfin, an online real estate brokerage company, burst onto the scene in 2006, real estate agents were not happy. They saw Redfin as a huge disruption to their field, and any even blacklisted people who used the service.
Rather than keep quiet, Founder Glenn Kelman decided to get vulnerable on the company blog. He shared the trials and tribulations that come with working in the real estate space. He even owned up to his shortcomings and criticized how he'd handled some challenges.
The blog took off, as customers loved the transparency. They were able to empathize with Kelman, and he emerged as a true leader. "I honestly believe that if Redfin were stripped absolutely bare for all the world to see, naked and humiliated in the sunlight, more people would do business with us," said Kelman.
How to get leaders more engaged
Engaged leaders are substantially outnumbered by leaders who are not engaged. How can you make sure that isn't the case at your company?
Provide systems and structure. If you implement software that focuses on engagement and productivity, hold performance reviews, and have a system for giving feedback, managers will be much more likely to be motivated. Companies with formal employee engagement programs saw 2x as many benefits as those that did not, according to Hinge Research.
Prioritize accountability. Managers need to get rewarded for positive behavior and see negative consequences for negative behavior. Otherwise, what's the incentive to do their best? You need to make sure you are holding managers accountable for their leadership.
Make sure accomplishments are recognized. Similarly, when managers perform well, they need to be recognized. Recognition has been shown to increase motivation and productivity. Build it into what you do.
Hire right. Bradford D. Smart, of Topgrading, reports that top Human Resources executives say that only 20% of managers they hired turned out to be the high performers they expected. "That's an 80% mis-hire rate!," Smart says. Figure out what your top managers have in common, and hire those with similar attributes.
Measure trust. According to recent data from the Edelman Trust Barometer, CEO trust is at an all time low. It's on you to measure how your employees feel about your leadership, and to take action when trust levels are low.
In closing
As a company leader, you want engaged employees who are not only productive, but are also happy to come to the office every day. You want them to feel as though they can make an impact, power through tough problems, and go home feeling fulfilled.
In order to do this, you need to ensure your leaders are as engaged as possible. By prioritizing accountability, recognizing accomplishments, and measuring progress along the way, you'll be able to create an environment where leaders can excel.
The Business Transformation Network has posted this article in partnership with Dynamic Signal.