October marks Black History Month, the annual commemoration of the history, achievements and contributions of black people in the UK. The theme for Black History Month 2022 is 'Time for Change: Action Not Words.'  Black people are often given the double burden of experiencing racism and discrimination, and then being expected to fix it.
We kickstarted the month by decorating the office with posters to educate and celebrate the renowned black lives who have made an impact on us all.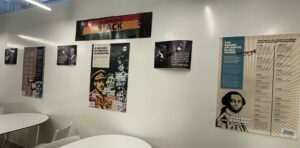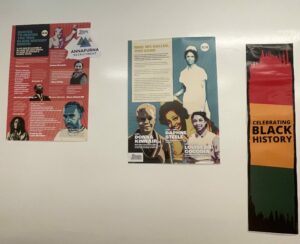 To continue the celebration, we also shared some information about the racial wealth gap and things we can do to support the communities affected by it.
The racial wealth gap is an issue that has persisted from generation to generation across Black communities. Black people continue to face hurdles when starting their own business ventures or maintaining their organisations, and research shows that the racial disparity exists even when applying for credit. Supporting your local Black-owned businesses will help communities, the overall economy and create better relations!
Here are a list of Black owned businesses in London inc. catering, fitness, radio, bookshops & more that you can support this month and every month:
Let's challenge ourselves to be conscious of the fact that truly supporting Black-owned businesses means more than only showing up during certain times like Black History month.
List of ways you can support Black-owned businesses throughout the year:
Add them to your list of go-to places.

Tell people about them.

Follow and post about them on social media.

Write positive and constructive reviews.
Kelechi Okafor is a Black-British actress, director and public speaker born in Nigeria and raised in London.
Here is her website: https://bit.ly/3yYXwcz
Her podcast "Say Your Mind" is centred around mental well-being, a unique and hilarious take on Tarot as well as current political events happening here in the UK and worldwide. Kelechi has appeared on the BBC 3 show, Work It – which draws on her experience as a fitness expert and her work in pole dancing and twerking as a form of enabling for women to embrace their bodies without sexualisation, particularly with victims of abuse.
Here are the links to her podcast:
On Kelechi's website you will find several excerpts written and shared about her lived experiences. A very insightful one is 'A stereotype a day keeps the doctor away – how the healthcare industry is failing Black women'.
QOTM: "I'm reminded of the impact of structural racism on the women in my family, and how they helped pave the way for me to achieve success in life. It's incredibly important to have Black women at the table as major policies are being developed and discussed."
On the last Friday of the month, we hosted a celebration with a quiz which included topics from black athletes to music and protests and then celebrated with Jamaican food and drink.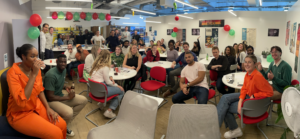 "We are incredibly proud that Annapurna is an amazingly diverse business, and celebrating black history month is an important part of that but, as this article says, we should also remember that however diverse our businesses or communities might be, structural inequality remains a huge issue.

Just one example is that, over the last 10 years, the median accumulation of wealth through home ownership by a Black family in the past decade in Great Britain is zero. In contrast, a White British family has amassed about 115,000 pounds by holding property over the same period.

This is both shocking and yet somehow altogether unsurprising, and shows that we all still need to continue to fight to ensure that 10 years from now, Black History month can hopefully celebrate these inequalities being consigned to the bin."

Nigel Fox – Founder of Annapurna